Changes to ADA Requirements for Hotel & Motel Guest Rooms
Effective March 15, 2012, the Federal Americans with Disabilities Act (ADA) will be changing the accessibility requirements for Hotels and Motels. The ADA requires that all hotels and motels provide guest rooms accessible to individuals with physical disabilities. The ADA has specific language and requirements for Hearing Impaired accessibility.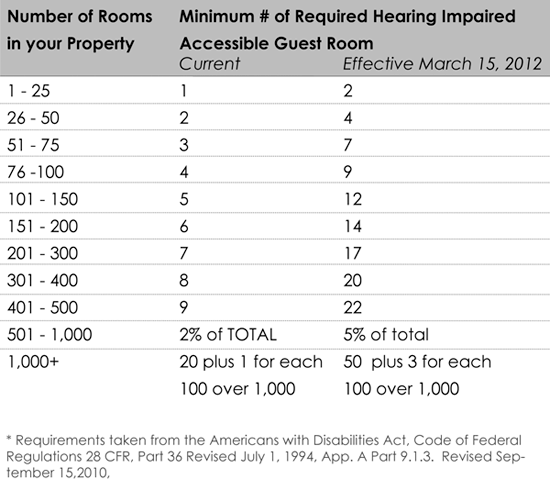 New Requirement: Dispersion
Hotel and Motels are now required to disperse the Hearing Impaired accessible guest rooms among the various types of guest rooms offered based on type, number of beds and amenities. This means that hotels and motels are not able to make all mobility (wheelchair) accessible rooms Hearing Impaired accessible nor are they able to limit Hearing Impaired accessible rooms to one floor, queens, kings, smoking, and non-smoking. The Hearing Impaired accessible guest rooms must be DISPERSED among the various types of guest rooms offered.

Pool Lifts
Hotels and Motels are now required to have a ADA compliant pool lift for each body of water (pool , hot tub) on a given property. On July 26, 2010, the US Department of Justice released updated ADA Standards for Accessible Design. Among the updates for a number of facility types were new requirements specifically for public swimming pools. The level of accessibility depends on the size and type of the pool. For pools under 300 linear feet in size, the ADA Standard for Accessible Design calls for one means of access, which must be either an ADA-compliant lift, or a sloped entry. Pools with greater than 300 linear feet of pool wall must also have a second means of access. This second means can either be another lift or ramp, or it can also be a transfer wall, a transfer system or pool stairs.
Explore the entire text of the new requirements at the ADA website.
© 2011 INTRAGLO TECHNOLOGIES CORP. All Rights Reserved Contact Us